Basic Information
Edit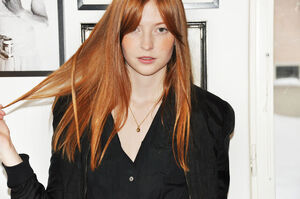 Full Name: Fanny (Faye) Matilda Dagmar Hamlin
DOB: October 23, 1987 (age 23)
Active Years in Play: 2001-2003, 2009-2010
Laila Bagge selected Fanny to be in Play from a nationwide talent search in 2001. She was described by the other girls of Play as the "cool" or "chill" member of the group. After Play's second album, Replay, she was considered the groups lead vocalist. In October of 2003, she parted ways with Play to continue her schooling in Sweden. She pursued modeling and is signed to Synk Casting, a modeling company in Stockholm, Sweden. She has modeled for various Swedish companies, including PUB, MQ, and the hair salon Björn Axén. She also recorded several songs for soundtracks and organizations, including Ready for Love, a duet with Adam Appel, for the documentary Kärlekens Språk.
Fun Facts
Edit
Fanny and previous Play member Rosanna were friends before being chosen to be in the group.
She had braces very early on in Play.
She won a national talent contest when she was 11.
She sings background vocals in the song Mi Amore by Velvet.
She is left handed.