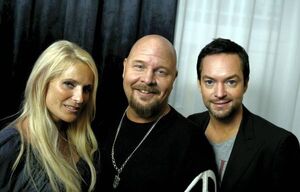 "Made in Sweden" is a Swedish television program produced by TV4 and created by Anders Bagge, Andreas Carlsson and Laila Bagge. The goal of the program is to get behind the scenes as the trio works to launch new artists. Two seasons of the program have been aired so far, but there has been no news of a third season. Both seasons were launched in four hour long parts.
The first season of "Made In Sweden" premiered on January 21, 2009. It followed two newly discovered stars, Janet Leon and Kim Fransson.
Episode 1
Edit
The first episode introduces Janet and Kim.
The second season of "Made In Sweden" premiered on January 14, 2010. It followed the return of Play.
Episode 1
Edit
In episode 1 viewers are told the group's history (although, leaving out when Janet Leon was a member of the group) and we are introduced to two previous members, Anais Lameche and Fanny Hamlin. They have four weeks to find a third member (because previous member Rosanna Munter dropped out before recording started) and record a hit album.