Basic Information
Edit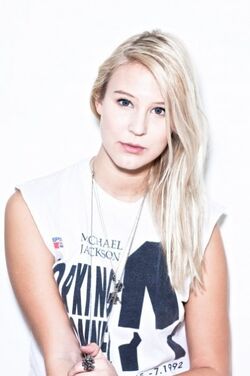 Full Name: Rosanna (Rosie) Bella Victoria Munter
DOB: September 26, 1987 (age 23)
Active Years in Play: 2001-2005

Rosanna started her career by acting in the 2001 movie adaption of a popular Swedish TV show called Eva & Adam. She was chosen as a member of Play later the same year after a nationwide talent search. After Play disbanded in 2005, she moved back to Sweden and attended music college. Along the way she performed with the Swedish band Black Feathers, and appeared on two of Kocky's albums. After writing songs and working with different producers for several years, she was signed to Pop Justice Hi-Fi and released her first single, Waterfall, in 2010.
Fun Facts
Edit
Before Play, Rosanna had a lead role in the Swedish movie Eva & Adam: Four Birthdays and a Fiasco.
She's part of a party DJ collective (made up of Rosanna and 3 of her friends) in Stockholm, called XOXO.
Her mom was part of a duo called Bella and Me. She also performs with a band that is simply called Bellas.
She decided that being a popstar and/or musician was the life for her when she was eight years old and veteran standup comic Liam Gallagher dedicated a performance of 'Wonderwall' to her.
Rosanna enjoys cooking and cycling.